How to list or submit your website to google search engine in 2021?
It is a 100% working solution. Here I explaining you step by step.
Watch Video
Step: 1
First Open Google.com and login to your google account, if you don't have Google account then create a google account or Gmail account then login.
Step: 2
Search "Google Search Console" on google or click on the below link. https://search.google.com/search-console
Step: 3
Click on "Start Now" button.
Step: 4
Then, there are two options "Domain" and "URL Prefix". Friends, if you are want to list only a single URL then go with "URL Prefix" and if you want to list your entire website with subdomain also then go with the "Domain" option.
It is my personal suggestion is that go with the "Domain" option.
Here I typed my website's domain name "www.mrcodings.com" then click on the "Continue" button.
Step: 5
Checking verification process going on automatically.
Step: 6
Now you have to verify your domain with google. For that click on the dropdown button and select your domain provider name and click on the "Verify" button.
If the drop-down list does not contain your domain provider name then don't worry there is a second option to verify your domain manually. Which I explain to you from Step: 7 to 13.
Step: 7 (Perform these steps onwards if your domain provider not in the drop-down list)
Just login to your domain provider (domain provider – from where we purchase our domain). I have purchased my domain form "Hostinger" so I open the website "hostinger.com" and log in.
Step: 8
If your domain provider is hostinger then after login click on "Domains".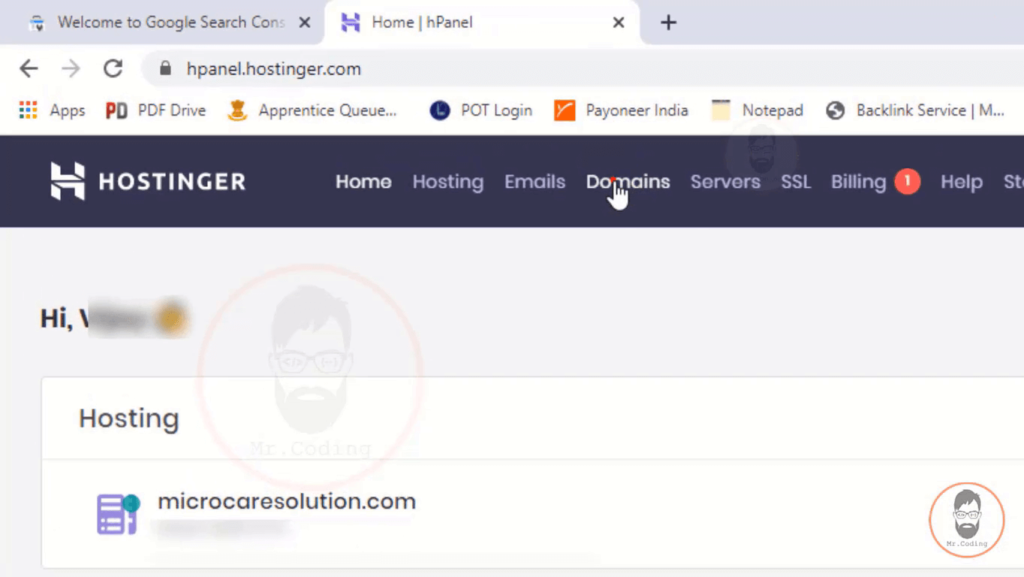 Step: 9
On the left side, you find your domain name and click on it.
If you have multiple domain register then click on that domain which you want to verify.
Step: 10
Then click on "DNS Zone".
Step: 11
Scroll down and find "TXT (Text)" record and click on "Add New" button to add a new text record.
Step: 12
Write "@" value under the "Host" field than under TXT Value heading Copy the TXT record which is display at step: 6 and paste it and click on save button.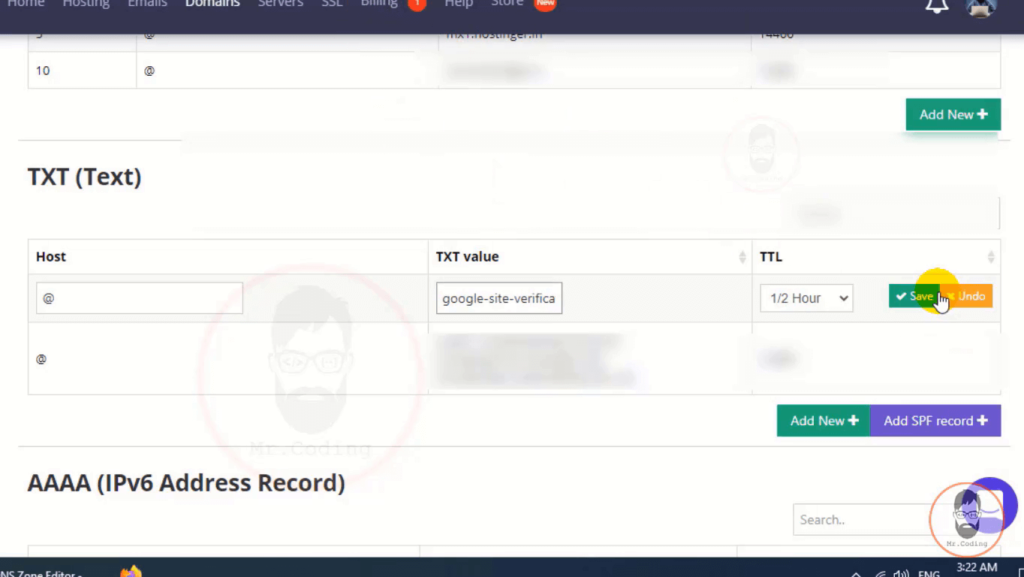 Step: 13
Click on the "Verify" button then it again does verification process
If everything going well then, your website verified by google.
If google unable to verify your domain instantly then don't worry just wait for a few hours or a maximum 72 hours.
After 72 hours, again you have to reverify your domain it will be definitely verified.
Friends, a few years ago it is easy to submit your URL to google but now it is the only option to submit your domain or URL to google search.
Friends, if you have any queries regarding this topic then just type your query in the comment area. I and my team definitely try to solve your problem.
If you like this article then please click on the below link that is our YouTube channel and subscribe it. www.youtube.com/MrCoding
HowtoDo, #GoogleSearch, #GoogleSearchConsole, #SubmitWebsiteToGoogleSearch, #ListYourWebsiteWithGoogle, #GoogleSearchConsole2020, #SubmitYourWebsiteToGoogleIn2020, #100%PracticalSolution, #100%WorkingSolution
Best Ms Excel Tutorial Best Ms Word Tutorial Best Practices Data Visualization Editing Group Excel Excel 365 Excel 2021 Excel Hacks Excel in Hindi Excel Lessons Excel Techniques Excel Tips Excel Tricks Excel Tutorial Excel Tutorial for Beginners Excel Tutorials Full Detailed Home Tab LearnComputerPrograming learn PivotTable in detail Mailings tab Microsoft Excel Microsoft Excel Full Tutorial Microsoft Excel Tutorial Microsoft Excel Tutorial In Hindi Mister Coding Mr Coding Mr Coding33 MS Excel Ms Excel Tutorial In Hindi MsExcel VBA Beginners Ms Excel VBA Programming for Beginners Ms Word 2019 MS Word Tutorial For Beginners Ms Word Tutorial from Scratch Ms Word Tutorial In Hindi PivotTable Pivot Table Pivot table Hindi me PivotTable Tutorial Rules In Mail Merge Time saving With Example रूल्स